I have been asked to co-host another Blog Hop. Woot, woot!
Stay posted for some amazing updates with our living room. I'm so excited to share our progress!
And now for a little hopping...Thank you Tiffany for inviting me!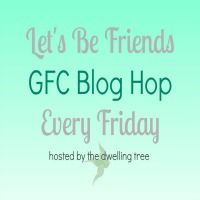 It is time for the Let's Be Friends Blog Hop #8. I am so excited to see how many people I have connected with out there. I have discovered some amazing blogs from this hop and am so grateful I started it! Thanks everyone for making this such a great hop!

Ok, the rules are simple:
1. Follow your host (either GFC or Bloglovin'- or any way you fancy!).
2. Follow your co-hosts (same as above!)
3. Visit some new friends. Visit 3 new blogs, follow them, and say hi!
4. Promote the hop by linking back or placing the button on your page.
Meet this weeks co-hosts!